SketchChair
SketchChair will be an open-source software tool that allows anyone to easily design and build their own digitally fabricated furniture.
A collaboration with JST ERATO Design UI Project in Tokyo.
The SketchChair software allows anybody to take part in the process of designing and building their own chairs. The program lets users design chairs using a simple 2d drawing interface, automatically generating the structure of a chair and testing its stability. Users can simulate sitting on a chair with a customisable figure of themselves, in order to test and refine the chair to ensure it will comfortably support them.
The software automatically generates cutting profiles for the chairs, which can then be used to make physical SketchChairs. Using a cnc router, laser cutter or paper cutter, these parts can be cut from any suitable flat sheet material, and then easily assembled by hand.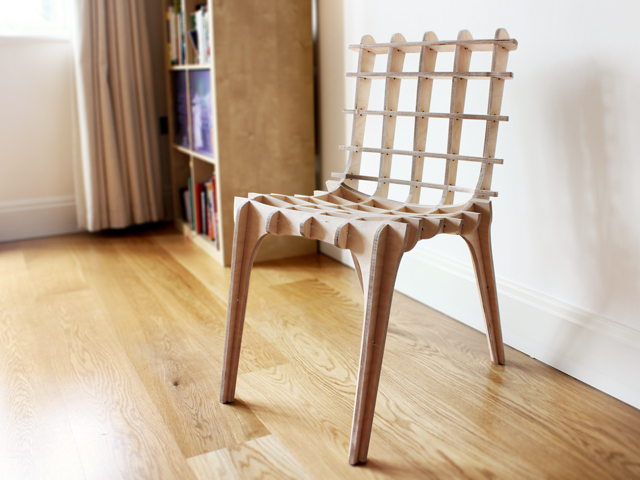 SketchChair started as a collaboration between Greg Saul and the JST ERATO Igarashi Design UI Project in Tokyo. The initial iteration of the system found overwhelming interest from both the academic community as well as the general public, and was presented at several conferences and design events.
Thanks to the support from our backers SketchChair has been successfully funded as a Kickstarter Campaign. We are now working with our collaborators from the campaign to publicly release SketchChair as a free and open-source system.
Software:
SketchChair is written in Java using the wonderful processing.org framework and Eclipse IDE.  jBullet physics is used for simulating chairs , the software makes use of the ToxiLibs for some geometry processing. We hope to release other components developed for sketchChair as open-source libraries soon. Among these  are craftRobo export, a simple 2D shape packing for patterns, a simple framework and geometry functions for constructing products from slice-forms and a custom GUI.
A huge thank you to everyone in the community for proving these libraries and frameworks open-source!
History:
Sketchchair started as a collaboration between Greg Saul and the JST ERATO Igarashi Design UI Project in Tokyo during a visiting researcher stay from August 2009 till February 2010.
Events:
DMY Internation Design Fetival, Berlin 2010,
link
.
DiYDA PLAN 2010 in Germany,  2010, link.
Yes We're Open!, The European Innovation Festival, Belgium, 2010, link.
Miraikan "Open Spiral", 2010, link.
Maker Carnival, CMoDA – China Millennium Monument Museum of Digital Arts, Beijing, China, April 2012; link, project page.
SketchChair Development Flickr Collection
SketchChair Flickr Group